On my course you will learn how to manipulate a variety of jewellery waxes so you can choose your favourite method to produce your own designs. It doesn't matter if you have never made anything before in your life, my courses suit complete beginners or experienced, crafty people alike. Have a look at my studio and house where we will be working and get to know a bit more about me here.
Classes are held my studio in East London. You can come by yourself or in a group of up to 6 people and we will work together for between 3 and 5 hours- this usualy includes quite a bit of tea and cake during the day or a glass of wine or two at night. In this time most people make 4-5 items to choose between. The first lesson costs £150 for one person, or £220 for two and £300 for a group of three or four. Occassionally I teach courses in other locations so let me know if you want me to come to you instead. If you are interested in organising a course alone or with friends send me an email on: WantOne@HannahRings.com.
Max and Mariah made each other's wedding rings with a squishy wax so that they could wear each others' fingerprints everyday. Its such a sweet ring idea. They were both amazing ring makers so they had lots and lots to choose from for their final ring. Have a loko here if you are interested.
Just ask Felix! Marta made this beautiful flower ring for Felix out of wax and then we finished the work together once it was in silver. It came cack with a couple of holes so Marta got to get the flames out and learn to weld. We has so much fun with the designs that I forgot to take any photos until right at the very end! I always do that.
Sneaky Wedding Rings
This is so sweet. I designed a beautiful crazy engagment ring for Felix to give to Marta and post-yes each of them secretly orgnaised with me to learn how to make each other a surprise wedding ring. They did such a beautiful job of them too as you can see!
Emily, Lara and Nut had their own special lesson at their house. Its was lovely, we started off with dinner and then had cake and wine while we worked on the wax. I had such a nice time and they got so much done- they were really prolific. I took about a third of their creations away to make them into silver for the next session. There are some more pictures here.
Here we all are working on our rings at fifteen Queen Street in Colchester. On this course I teaching everyone how to use three different techniques to produce rings from wax. We are doing one in soft wax, one in hard wax and one in a combination of soft and hard wax. Below you can see the results or read more about how they did it here.
Steven's Gold Signet Ring and Magalie's Melty Engagment Ring
To the left are Steven's rings. He made the first iteration in wax, perfected it in silver (you can see it above with a black diamond settled in the corner) and now wears it in gold as his wedding band. To make this he used a hard wax which his carved and sanded into shape.
Steven made his fiancee's engagment band at the same time and they are in the right hand photograph. Its a completely different style made using a completely different technique. Again its gold and very traditional for an engament ring because it has a diamond in it- its a black diamond inset to match Steven's. Very sweet!
Faceted Gold Wedding Band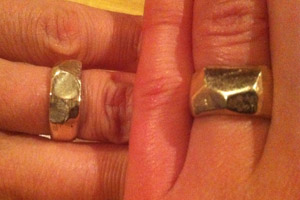 This is a picture that Charlie and Kerrie sent me after they got married. They made each other's wedding rings together during a private tutorial. They used a very hard wax tube which they carved and filed into this faceted appearance.
If you want to make something at home I have made these extremely helpful tutorials just for you. Have fun!